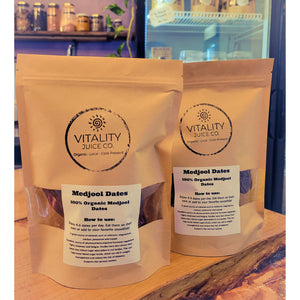 Organic Medjool dates.
A good source of minerals such as selenium, magnesium, calcium, potassium and copper.

Excellent source of phytonutrients, a plant compound which studies have shown can stimulate the immune system, reduce inflammation, prevent DNA damage, and improve hormone regulation

Improve metabolism. The B vitamins in Medjool dates like pantothenic acid, folate, and niacin help manage the metabolic processes that convert food to energy. Research shows this can help to fight tiredness and fatigue. Studies have also shown that dates may reduce sugar absorption in our bodies. This can help lower blood sugar levels, which can aid in weight management and reduce the risk of diabetes.

Supports the nervous system. By weight, Medjool dates contain 50% more potassium than bananas. This essential mineral helps control heart rate, breathing, and muscular function. This benefit is particularly important because potassium deficiency is common.