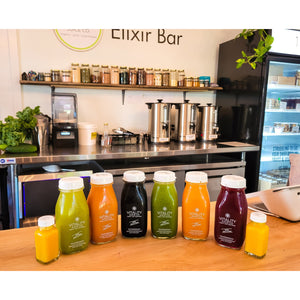 Cleansing at this time of year is as important as spring cleansing - which allows us to make room for new growth. It is a time when our external action mirrors our internal, hence cleaning our houses and our bodies simultaneously. It is a great time for contemplation.
Since our livers our are our main detoxifying organ of the body it is a time to take some of the burden off these over worked organs!
There are many benefits to a detox and it does not have to be painful. It is good to start by dropping a few of the most challenging foods you are eating or cutting out junk and increasing fluids/water. Juice cleansing is ideal to flush out toxins and replenish with essential vitamins, nutrients & enzymes. 
The Autumn Detox Cleanse in time for winter is ideal and just what nature intended!
Autumn Detox Cleanse 
1 day includes:
1 C-Shot (Seabuckthorn Berry, Camu Camu Berry, Orange)
1 Celery Juice (100% Celery Juice)
1 Carrot Glow (Carrot, Apple, Ginger, Lemon)
1 Black Magic Lemon-Aid (Filtered Water, Lemon, Activated Coconut Charcoal, Vanilla Bean, Local Maple Syrup)
1 Strong Green (Cucumber, Celery, Kale, Parsley, Lemon)
1 Super-C (Carrot, Orange, Apple. Seabuckthorn Berry, Turmeric)
1 Bold Beet (Beet, Pear, Green Apple, Ginger, Lemon)
1 Immunity Shot  (Turmeric, Ginger, Lemon, Black Pepper)
*select number of days you would like to cleanse from the drop down list