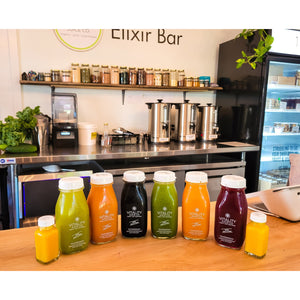 𝗔𝗨𝗧𝗨𝗠𝗡 𝗗𝗘𝗧𝗢𝗫 𝗖𝗟𝗘𝗔𝗡𝗦𝗘🧡💧
𝘖𝘯𝘦 𝘰𝘧 𝘰𝘶𝘳 𝘮𝘰𝘴𝘵 𝘱𝘰𝘱𝘶𝘭𝘢𝘳 𝘴𝘦𝘢𝘴𝘰𝘯𝘢𝘭 𝘤𝘭𝘦𝘢𝘯𝘴𝘦𝘴 𝘰𝘧 𝘵𝘩𝘦 𝘺𝘦𝘢𝘳!
🧹
Our body's mirror the natural cycles in nature. This is the time to lighten our outward demands and turn within to listen to what our body needs. 
Just like the tall maples, we must shed our leaves and cleanse before the winter. 🍂🍁🍃
An Autumn Detox Cleanse can help to stave off seasonal colds, keep your immune system healthy, and prepare your organs for the colder months ahead.
There are many benefits to a detox and it does not have to be painful. It is good to start by dropping a few of the most challenging foods you are eating or cutting out junk and increasing fluids/water. Juice cleansing is ideal to flush out toxins and replenish with essential vitamins, nutrients & enzymes. 
This cleanse is full of seasonal, fresh local produce. Designed mindfully to contain many grounding root vegetables, and vitamin and mineral rich fruits, vegetables, leafy greens and herbs.
Autumn Detox Cleanse 
1 day includes:
1 C-Shot (Seabuckthorn Berry, Camu Camu Berry, Orange)
1 Celery Juice (100% Celery Juice)
1 Carrot Glow (Carrot, Apple, Ginger, Lemon)
1 Black Magic Lemon-Aid (Filtered Water, Lemon, Activated Coconut Charcoal, Vanilla Bean, Local Maple Syrup)
1 Strong Green (Cucumber, Celery, Kale, Parsley, Lemon)
1 Super-C (Carrot, Orange, Apple. Seabuckthorn Berry, Turmeric)
1 Bold Beet (Beet, Pear, Green Apple, Ginger, Lemon)
1 Immunity Shot  (Turmeric, Ginger, Lemon, Black Pepper)
*select number of days you would like to cleanse from the drop down list