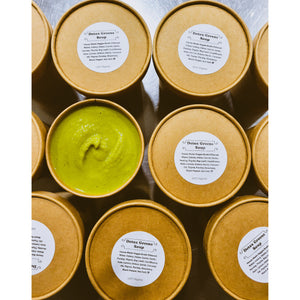 16oz, single serving soup. A delicious & satisfying soup that is loaded with detoxifying herbs and leafy greens.
Ingredients: House-Made Veggie Broth (Filtered Water, Celery, Onion, Carrot, Garlic, Parsley, Thyme, Bay Leaf), Cauliflower, Kale, Lemon, Onions, Garlic, Coconut Oil, Thyme, Parsley, Rosemary, Black Pepper, Sea Salt
100% Organic
Benefits: 
Eating dark leafy greens and herbs is a great way to assist in the body's natural detoxification process.

Cruciferous vegetables (kale and cauliflower), are rich in cleansing, sulfur-containing compounds.
*Defrost night before using in refrigerator or tear open container when frozen and pour into pot.  Heat and enjoy!
*Lasts 6 months in freezer, 5 days in refrigerator