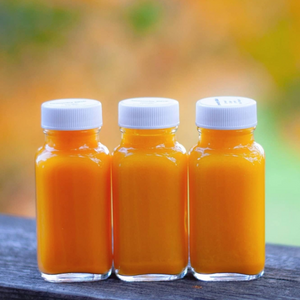 We're kind of in love with this tart little shot. Small but mighty ~ this shot packs a punch! Like one of those chewable vitamin c tablets you had as a kid only these are made with only 100% raw & real ingredients!

100% Organic Ingredients:  Seabuckthorn Berry, Orange, Camu-Camu Berry
•Packs a punch with seabuckthorn berries containing 12 times the amount of vitamin C as an orange.
•Moisturizes from the inside out (contains omega 3, 6, 9 and the rarely found omega 7).
•Seabuckthorn berries are one of the most nutritious and vitamin-rich foods in the world.
•Camu-Camu berries are one of the most concentrated natural food sources of vitamin c.
*We recommend consuming within 14 days