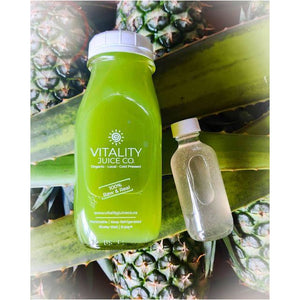 100% Organic Ingredients: 100% Raw, Fresh Aloe
Benefits:
Improves gastrointestinal & digestive issues, also acts as a neutral laxative & has also been shown to support the growth of flora and good bacteria in the gut.
Hydrating & full of electrolytes.
Alkalizing. Helps reset your body from being in an acidic state to an alkalized state. An acidic environment is where you harbor disease, so a more alkalized state means a healthier, stronger immune system.
Full of antioxidants, vitamins A, C, and E, folic acid, and choline, as well as the minerals calcium, copper, selenium, chromium, magnesium, potassium, sodium, and zinc.
Clinically proven to help clear skin issues such as acne & rosacea. Works topically and from the inside out.
*14 day shelf life, or up to a month in the freezer