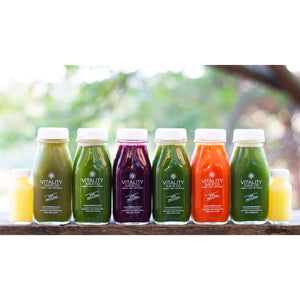 The Deep Clean cleanse includes mostly non-sweet green juices. This is our classic cleanse. Suitable for beginner or experienced cleansers!
Deep Clean Cleanse 
1 day includes:
3 Strong Green (Cucumber, Celery Kale, Parsley, Lemon)
1 Bold Beet (Beet, Pear, Green Apple, Ginger, Lemon)
1 Carrot Glow (Carrot, Apple, Ginger, Lemon)
1 Celery Juice (100% Celery Juice)
2 Detox Elixir (Ginger, Lemon, Green Apple)
*select number of days you would like to cleanse from the drop down list 
For more information on juice cleansing visit our cleansing 101 page by clicking here.