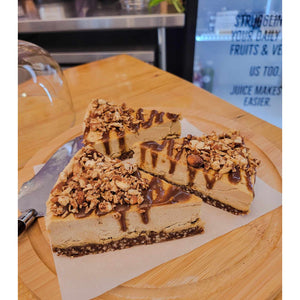 Made with fresh pumpkin, spices, house-made caramel & a cinnamon almond crumble.
•ᴏʀɢᴀɴɪᴄ/ꜱᴜᴘᴇʀꜰᴏᴏᴅ/ᴅꜰ/ɢꜰ/ʀᴀᴡ/ʀꜱꜰ•
Ingredients: Cashews, Almonds, Pumpkin, Coconut, Medjool Dates, Local Maple Syrup, Cacao Butter, Ginger, Cloves, Turmeric, Cinnamon, Ginger, Vanilla Bean, Pink Salt
*5 day shelf life in refrigerator or lasts up to 30 days in the freezer. They freeze really well!