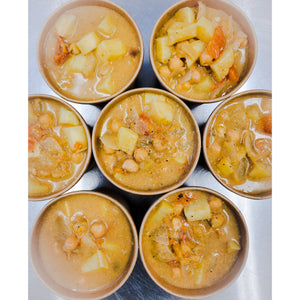 16oz, single serving stew. This stew is hearty, high in protein & contains a high dose of veggies. Made with a base of fresh tomatoes and sweet potatoes. The stew is loaded with invigorating Moroccan spices with just a slight kick! 
Ingredients: House-Made Veggie Broth (Filtered Water, Celery, Onion, Carrot, Garlic, Parsley, Thyme, Bay Leaf), Tomatoes, Sweet Potatoes, Coconut, Onions, Garlic, Cinnamon, Cardamon, Cumin, Chipotle Pepper, Black Pepper, Sea Salt
100% Organic
Benefits: 
High in protein 
Increases blood flow and circulation
High 

in carotenoids such as lycopene and beta carotine which are excellent for skin, hair & nail health
*Defrost night before using in refrigerator or tear open container when frozen and pour into pot.  Heat and enjoy!
*Lasts 6 months in freezer, 5 days in refrigerator